Many of us in relationships have two lives—the one we post on social media and show the public, and the one we live behind closed doors. Let's be real, many of us who are in relationships have a "secret private life" where we do some weird ass shit with our significant other—stuff that would be looked down upon by society.
1.
I express the blackheads he gets behind his ears and pop the zits on his back. He has tattoos and i feel like I get bonus points if find a back pimple hidden in a tattoo. We actively argue who has the right to pop the juicy ones. —rachelsporyh
2.
We pretend like we're going in for a really soft and romantic kiss. Then we just wrap our lips round the other persons nose and blow as hard as possible. Makes a brilliant sound, like a foghorn. —sarahscarisbrickl
3.
We play this game called the "foot game" where we try to get our foot on each other'sfaces. It often results in wrestling or being scared that when you least expect it, you will get a foot on your face. —corkeyduh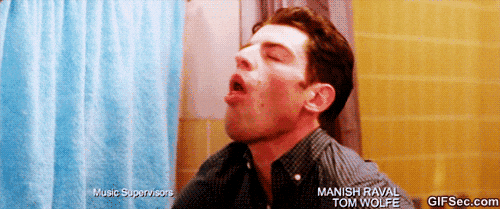 4.
My husband poops every morning and usually after dinner, like clockwork, and he often calls me in the bathroom to chat. Half of me enjoys the chat, the other half is disgusted by the smells, sights and sounds of the man I have sex with pooping a few feet from me. —mamameows
5.
We always use the same toothbrush. —maryj4d5602786
6.
My husband will lick my face because he thinks its funny when I break out in pimples so I lick him back and we get into these wrestling licking contest trying to get the last lick until someone calls even stevens lol typing this out makes me realize we're weird and gross lol. —emiretl
7.
Burp in each other's faces, trying to be as long and loud as possible. —thatkellygirl
8.
We're actually like super gross. He always pops my pimples, I scratch his balls, we use the toilet in front of each other and have no shame about farting. Thinking about it now, we're a really gross couple-ew. —Kojinute

9.

I'm not sure if anyone else knows this… but you can pull up on the skin and blow up an uncircumcised penis like a balloon. Have we don't that on multiple occasions? Does it always make us laugh? Yes. And yes. —K_Supreeze
10.
I pee in every shower I'm ever in. So if we're sharing a shower, he's getting peed on too. —frozenbanana